Do you need a little pizazz in your knitting routine? Are you ready for a new and exciting challenge? We hope you said 'yes and yes' because we've got a great new KAL with one of our favourite designers, Carol Feller, coming your way!
This year, the pattern we'll be knitting along with Carol is the Wave Ripples Jumper, knitted in the gorgeous Surf shade of The Yarn Collective Bloomsbury DK. This DK weight merino wool yarn is totally swoon-worthy. It has a wonderfully soft handle, and the final spin has been plied together for a delicious drape. Each skein of yarn has been carefully hand-dyed, using the kettle dye technique, which gives stunning tonal nuances running throughout. You might experience some dye transfer on your hands while knitting with it - that's natural!
The Wave Ripples jumper has a gentle cable wave flowing through the front and back that creates a beautiful central panel. The soft drape of this pattern along with the sublime sea-coloured yarn inspires brisk seaside strolls, and cosy fireside retreats.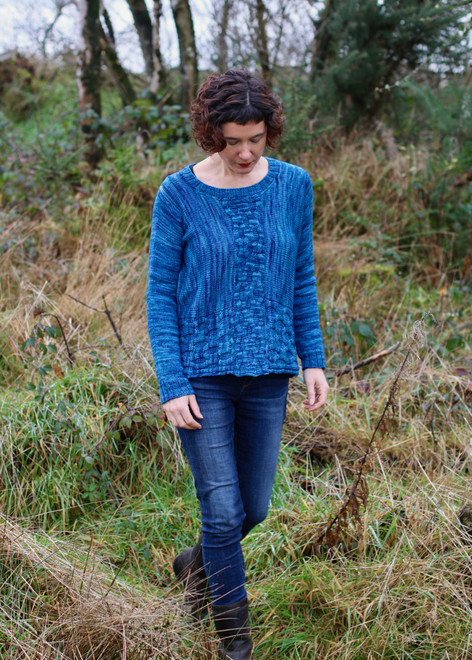 I love both the peace and ferocity of the ocean. It can move from tranquility to danger in minutes and tosses up a huge mix of colours. The yarn for this jumper is the perfect reflection of that!" - Carol Feller
The construction of this jumper is a little bit different and will keep you guessing every step of the way! In her signature style, Carol will be releasing video clues with the written steps to help guide you through this quirky and tranquil KAL.
When can I get hold of the pattern?

We're not going to give it to you all at once! That's the magic of the KAL. First, buy and download the KAL PDF from the 10th of December to find out everything you need to know about the yarn, needle size, and gauge so that you can prepare for when the first clue drops on the 8th of February. Then, all you need to do is check your LoveKnitting library, where your PDF will be available to update and download with every clue release.
When will the clues be released?
Clue 1: Front & Back Sections
8th February - it's live! Check the updated pattern in your library.
Clue 2: 22nd February
Clue 3: 8th March
Clue 4: 15th March
Final Prize: 29th March
Don't you just love a KAL! We can knit along together and savour the experience of making something by hand . Let us know how you're getting on with your jumper, share your progress on Instagram or Facebook with the hashtag #waveripplesKAL. Happy knitting, KAL-ers!