You've conquered scarves, hats and mittens, now it's time to cast on your first sweater. It's not as daunting as you think - if you can knit and purl, you can knit a sweater! Let's get knitting.
Choosing a pattern
Once you've decided to dip your toe into the wonderful world of garment knitting, the first thing you need to do is find a sweater knitting pattern. Choose a pattern that is suited to your ability - begin with something simple, with perhaps a boat neck or crew neck, some easy ribbing and lots of plain knitting.
Explore our beginner level patterns
Flat or in the round?
There are two construction methods you can use for knitting a sweater. You can knit it in pieces and sew it together (front, back, sleeves) on straight needles, or you can knit it 'in the round' on a circular needle. Both of these methods are straightforward, but depend on your preference - if you're used to circular needles you might just love knitting in the round, especially if you hate the thought of sewing up! If you are new to increasing and decreasing, choose a sweater knitted in pieces because it's easier to see how the construction works.
Choosing a yarn
Before you go racing towards the yak merino blends, read the pattern section for which yarn is suitable for the sweater. Read our handy guide for how to choose a yarn before you start.
Choosing a color
Get ready for some fun - choose your color! Your sweater is going to take you lots of precious time to knit, so choose a color that you love, and that you will wear. Try our color comparison tool to mix and match shades to get your favorite pairing.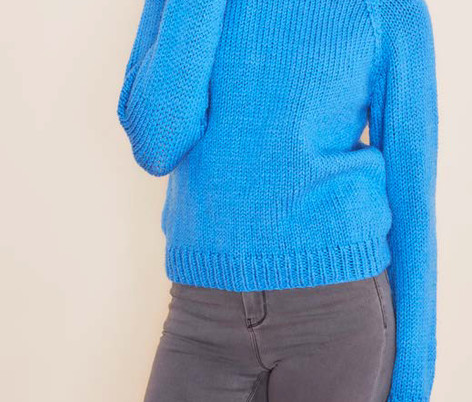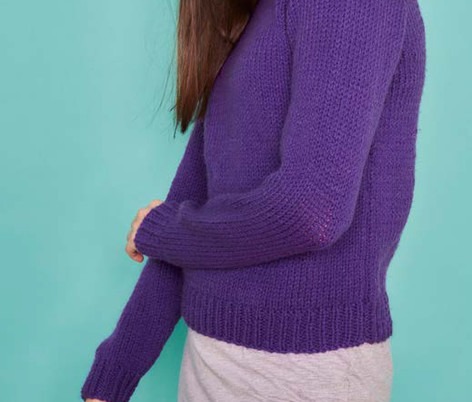 Gauge and tension
You will notice in your sweater knitting pattern there is a section about gauge or tension. This is how the size of the sweater is measured against the size of needle you use and how tightly or loosely you knit. The best way to identify your own personal tension is to knit a swatch. Read our guide to gauge to find out more.
Take your time!
Knitting your first sweater is exciting, but before you start, read the pattern from beginning to end. If there is anything you don't understand, ask a knitter or ask our Smiles team to help. Take your time with each step of the pattern, and set aside lots of quiet knitting time for the trickier part of the pattern.